The UAP-AC-PRO-5 UniFi Access Point Enterprise Wi-Fi System from Ubiquiti Networks is a scalable enterprise access point solution designed to be easily deployed and managed. It supports the 802.11ac Wi-Fi standard with speeds of up to 1300 Mb/s in the 5 GHz radio band, and up to 450 Mb/s in the 2.4 GHz radio band. The Wi-Fi system offers simultaneous dual band operation with 3 x 3 MIMO technology for each band. It has a range of up to 400' and two Gigabit Ethernet ports. This UniFi Access Point (AP) has a sleek design and can be easily mounted to a ceiling tile or wall, using the included mounting hardware.

The Wi-Fi system includes UniFi Controller software that can be installed on a Windows, Mac, or Linux machine within the network, and is easily accessible through a standard Web browser. Using the UniFi Controller software, an Enterprise Wi-Fi network can be quickly configured and administered, without any special training. Real-time status, automatic UAP device detection, map loading, and advanced security options are all seamlessly integrated in the system. This access point pack does not come with a PoE injector.

UniFi AP

Save Money and Save Time
The UniFi AP comes bundled with a non-dedicated software controller that can be deployed on an on-premise Windows, Mac, or Linux machine, in a private cloud, or using a public cloud service.

Wi-Fi 802.11ac MIMO Technology
The 802.11ac MIMO Technology offers Gigabit speeds and range up to 400'.

Intuitive UniFi Controller Software
Install, configure, and manage all of the UniFi APs with the intuitive and user-friendly UniFi controller user interface.

Expandable
Build wireless networks as big or small as needed. Start with one or more and expand to thousands, while maintaining a single unified management system.

UniFi Controller
Use the UniFi controller to provision thousands of UniFi APs, map out networks, quickly manage system traffic, and provision additional UniFi APs.

Analytics
You can use configurable reporting and analytics to manage large user populations and expedite troubleshooting.

Guest Portal/Hotspot Support
Easy customization options for guest portals include authentication, hotspot setup, and the ability to use your own external portal server. Use UniFi's rate limiting for guest portal/hotspot package offerings. Apply different bandwidth rates (download/upload), limit total data usage, and limit duration of use. The UniFi AP includes hotspot functionality. It includes built-in support for billing integration using major credit cards, and built-in support for voucher-based authentication. It also includes a built-in hotspot manager for voucher creation, guest management, payment refund, full customization, and branding of hotspot portal pages.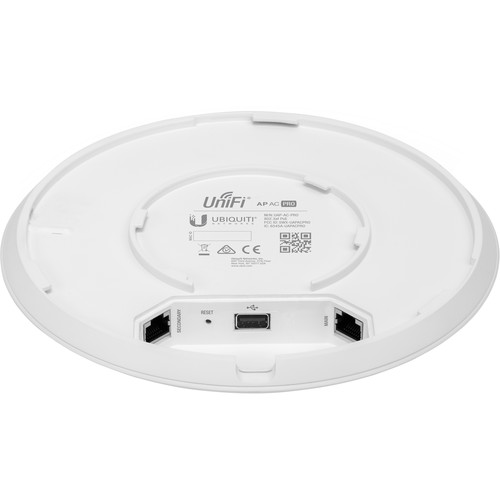 Multi-Site Management
A single UniFi Controller running in the cloud can manage multiple sites, multiple, distributed deployments, and multi-tenancy for managed service providers. Each site is logically separated and has its own configuration, maps, statistics, guest portals, and administrator read/write, and read-only accounts.

WLAN Groups
The UniFi controller can manage flexible configurations of large deployments. Create multiple WLAN groups and assign them to an AP's radio.

Maps
Upload map images of your location for a visual representation of each wireless network.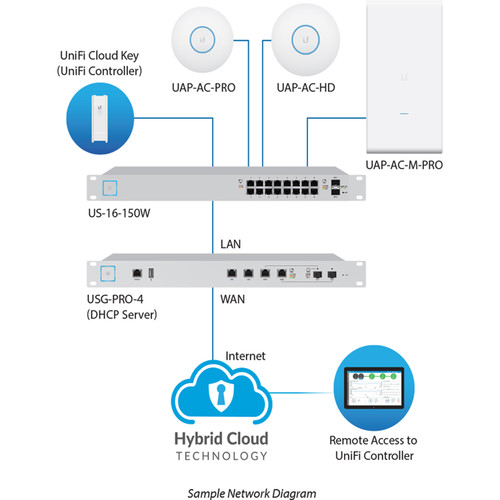 Statistics
UniFi organizes and visualizes network traffic in clear and easy-to-read graphs.

Extend Your Coverage
With the UniFi controller software running in a NOC or in the cloud, administrators can extend and centrally manage the wide areas of indoor and outdoor coverage, using any combination of UniFi APs.
Easy Mounting
Sleek wall or ceiling mount design (all accessories included).

Design
It has an industrial design with an LED provisioning ring or square, which provides administrator location tracking and alerts for each device.

Power over Ethernet (PoE)
Power over Ethernet (PoE) functionality allows both power and data to be carried over a single Ethernet cable to the device. The unit can also be powered from the Ubiquiti TOUGH Switch PoE PRO (sold separately).
Document version V.01 
Last update date: October 1st, 2021 
OVERVIEW:
We make every effort to ensure your purchase is delivered on time and in good working condition.
In the event a system or component you purchased from Technologies Flame Company (NewtechBusiness)  is damaged in shipping, fails before the warranty period has ended, or you just need to return it, please refer to the steps below to return your purchase.
For Products Under Warranty:
Please have a description of your issue on hand when you contact support.
Technologies Flame support team will assist you in troubleshooting the problem remotely
If remote troubleshooting is unable to correct or identify the problem you will be instructed to fill out the RMA Request Form. An RMA number will be issued to return the defective system or component.
For Items Damaged During Shipping:
Once a purchase has been delivered, it is the customer's responsibility to inspect systems and/or components for damage incurred during shipping. If your purchase is damaged during shipping you must contact Technologies Flame within five (5) business days of receipt of product(s) to receive a refund or replacement for your purchase. Damaged items returned after the five-day period, without notifying Technologies Flame , will not be covered. Any requests to return a damaged item made after the five (5) day return period will be handled on a case-by-case basis.
For Outright Returns:
Returns NOT related to product warranties or damage during shipping are handled on a case-by-case basis. If you would like to return a product or system purchased through Technologies Flame you must notify Technologies flame team within 15 business days.
Returned systems and components are subject to a 20% restocking fee, and must be accompanied by an RMA number provided by an authorized representative Technologies Flame
To get an RMA number, you will have to fill out the RMA Request Form
All Items returned to IT Creations must have shipping labels addressed as follows:
Technologies Flame Company.
RMA: (Reference # Here)
Muheet Street, Al Nadheem, Riyadh City, Saudi Arabia
The RMA number must be included in the shipping return label when shipping back to Technologies Flame. Items must be shipped before the applicable warranty expires to receive a refund.
Purchases that have not shipped may be cancelled within one business day and are subject to a 20% restocking and fulfillment fee.
Shipping expenses are not included unless part of your service agreement with Technologies Flame.
All software purchases are final.
All new retail product purchases are final
Contacting us:
If you have any questions about this payment policy, the practices of this website, or your dealings with this website, please contact us using the following details: 
Full name:                        Technologies Flame Limited
Email address:                business@newtechstore.com 
Postal address:               Technologies Flame Limited  Muheet Street, Al Nadheem, Riyadh City, Saudi Arabia, Riyadh, Riyadh, Al Nadheem, SA 
Telephone number:         920011980 
Ubiquiti Network UAP-AC-PRO-5 UniFi Access Point Wi-Fi System 5-Pack