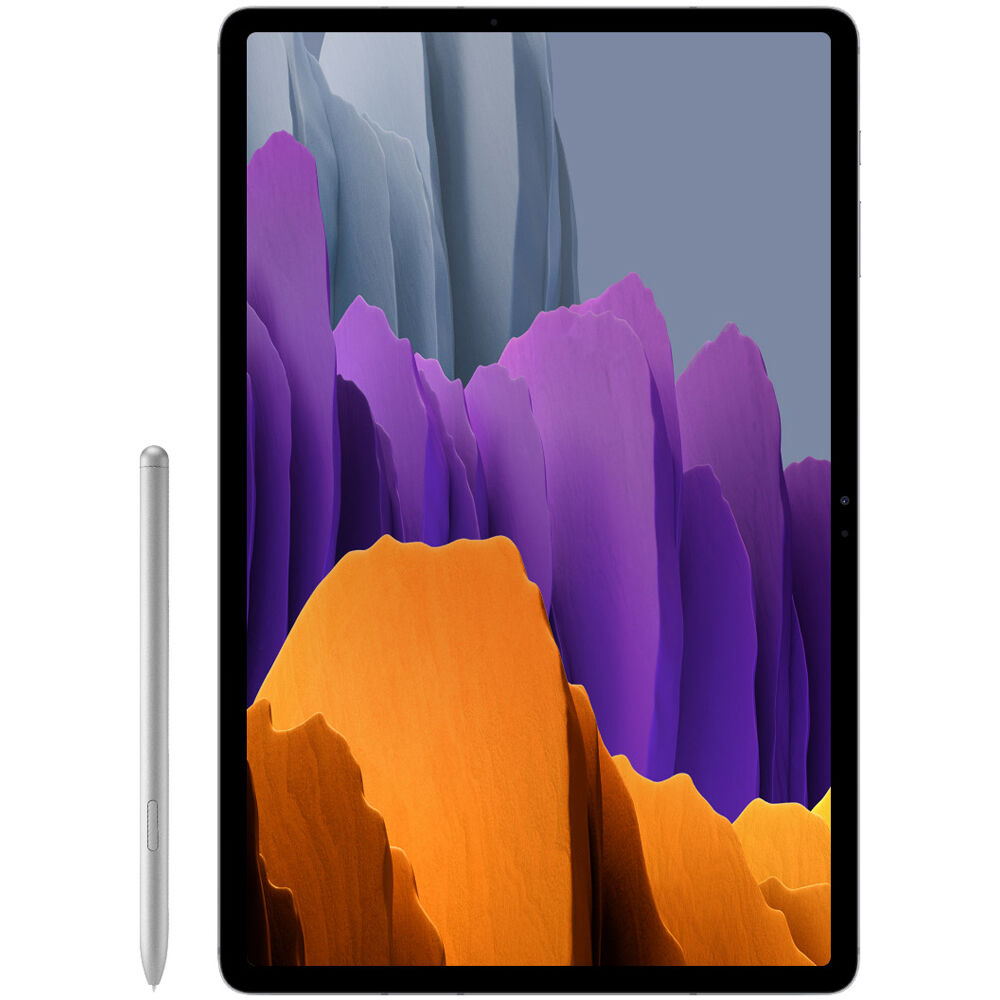 Meet the Galaxy Tab S7+
Your secret weapon for getting more done is here-with Wi-Fi connectivity, a redesigned S Pen, a stunning, edge-to-edge screen, and a battery that lasts the workday. Take your productivity and play to a new level.
Features
:
Rich audio and 3D surround sound with Quad speakers by AKG and Dolby ATMOS. Plus, the biggest leap in S Pen responsiveness for the true writing experience.
Get immersed in the Tab S7+'s amazing 12.4 inch Super AMOLED and the 120Hz refresh rate for smooth viewing experiences.
Incredibly thin and:

 

light, yet durableComing in Mystic Black, this design utilizes an advanced dual-color anodizing technique for enduring color that's robust, yet stylish. Its exquisite aluminum textures are created by polycrystalline diamonds, with a micro-sand blasted finish soft to the touch
16 intuitive function keys:

 

Align with Samsung Windows PC, Android-specific keys, Samsung Dex key
PC-like experience with a single tap:

 

With the Book Cover Keyboard, getting things done is that much easier. Coming with a larger trackpad and intuitive function keys, the keyboard gives you a seamless experience, and when used together with DeX you get a PC-like experience with a single tap.
Effortless come in 165°: 

Take it all the way back to 165°. It's the freedom you never thought you'd get from a tablet keyboard. The Book Cover Keyboard's free stop hinge lets you find your perfect angle for sending emails, blogging, studying — you name it.

Intelligent battery to keep you going all day: Binge-watch your favorite shows from sunup to sundown. The biggest battery on a Galaxy Tab is built to keep you going all day. Even after all that, you don't have to power down. Power up and keep going with Fast Charging, the fastest tablet charger.
Make the new tablet experience exclusively your own: 
*Accessories except for S Pen and Book Cover Keyboard are sold separately. Model and color availability may vary by country or carrier.
Document version V.01 
Last update date: October 1st, 2021 
OVERVIEW:
We make every effort to ensure your purchase is delivered on time and in good working condition.
In the event a system or component you purchased from Technologies Flame Company (NewtechBusiness)  is damaged in shipping, fails before the warranty period has ended, or you just need to return it, please refer to the steps below to return your purchase.
For Products Under Warranty:
Please have a description of your issue on hand when you contact support.
Technologies Flame support team will assist you in troubleshooting the problem remotely
If remote troubleshooting is unable to correct or identify the problem you will be instructed to fill out the RMA Request Form. An RMA number will be issued to return the defective system or component.
For Items Damaged During Shipping:
Once a purchase has been delivered, it is the customer's responsibility to inspect systems and/or components for damage incurred during shipping. If your purchase is damaged during shipping you must contact Technologies Flame within five (5) business days of receipt of product(s) to receive a refund or replacement for your purchase. Damaged items returned after the five-day period, without notifying Technologies Flame , will not be covered. Any requests to return a damaged item made after the five (5) day return period will be handled on a case-by-case basis.
For Outright Returns:
Returns NOT related to product warranties or damage during shipping are handled on a case-by-case basis. If you would like to return a product or system purchased through Technologies Flame you must notify Technologies flame team within 15 business days.
Returned systems and components are subject to a 20% restocking fee, and must be accompanied by an RMA number provided by an authorized representative Technologies Flame
To get an RMA number, you will have to fill out the RMA Request Form
All Items returned to IT Creations must have shipping labels addressed as follows:
Technologies Flame Company.
RMA: (Reference # Here)
Muheet Street, Al Nadheem, Riyadh City, Saudi Arabia
The RMA number must be included in the shipping return label when shipping back to Technologies Flame. Items must be shipped before the applicable warranty expires to receive a refund.
Purchases that have not shipped may be cancelled within one business day and are subject to a 20% restocking and fulfillment fee.
Shipping expenses are not included unless part of your service agreement with Technologies Flame.
All software purchases are final.
All new retail product purchases are final
Contacting us:
If you have any questions about this payment policy, the practices of this website, or your dealings with this website, please contact us using the following details: 
Full name:                        Technologies Flame Limited
Email address:                business@newtechstore.com 
Postal address:               Technologies Flame Limited  Muheet Street, Al Nadheem, Riyadh City, Saudi Arabia, Riyadh, Riyadh, Al Nadheem, SA 
Telephone number:         920011980 
Samsung 12.4" Galaxy Tab S7+ 8GB 256GB Tablet Wi-Fi Only Mystic Silver