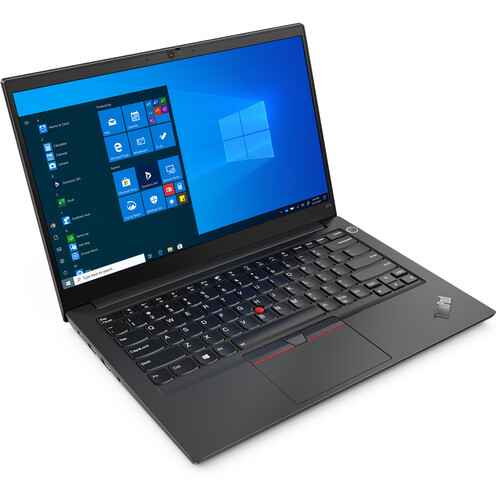 Performance meets portability in the 14" ThinkPad E14 Gen 2 Laptop from Lenovo. Designed for everyday computing, this laptop features a 3.0 GHz Intel Core i3-1115G4 dual-core CPU and 8GB of DDR4 RAM. Store files on the preinstalled 256GB M.2 SSD, or use a second slot to install a second, optional drive for even more space. Connect accessories via a USB 3.2 Gen 1 or 2.0 Type-A port, or via a Thunderbolt 4 port supporting power delivery and DisplayPort. Weary of wires? Connect to wireless peripherals using Bluetooth 5.1. Go online with Wi-Fi 6 or via an RJ45 port with Gigabit Ethernet support.

Featuring a 14" 1920 x 1080 TN display and integrated Intel UHD Graphics, the Lenovo E14 Gen 2 can mirror or extend content to an additional screen via Thunderbolt 4 or HDMI. In addition to a touchpad, the user interface includes a laptop-style keyboard. A dual-array microphone and a pair of 2W speakers complement the 720p HD webcam and allow for video conferencing on the go. In addition to a webcam privacy shutter, this laptop also features a TPM chip, power-on and user HDD passwords, and a security keyhole. Furthermore, the E14 Gen 2 is tested to MIL-STD-810H standards, ensuring military-grade performance. The aluminum top further ensures your laptop holds up to daily hazards. Supporting quick charging, the integrated battery can charge up to 80% in an hour and features up to 11.9 hours of use on a single charge. The Lenovo 14" ThinkPad E14 Gen 2 Laptop runs on the Windows 10 Pro 64-bit operating system.


USB 3.2 Gen 1
USB 3.2 Gen 1 features a maximum throughput of 5 Gb/s and is synonymous with USB 3.1 Gen 1 and USB 3.0.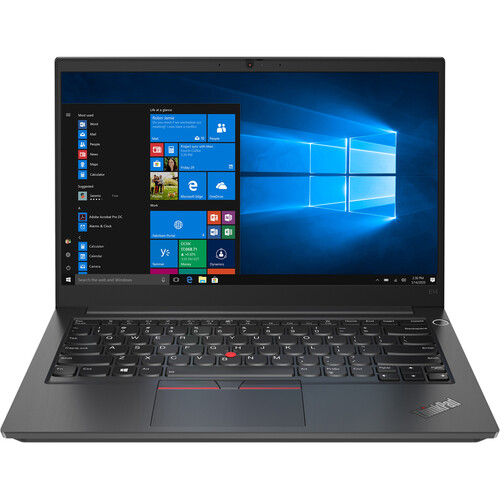 Windows 10 Pro

Start Menu
After its hiatus in Windows 8, the Start Menu has returned. Utilizing a combination of the traditional menu system and Windows 8's Live Tiles, the improved Start Menu gives you more information at a glance, showing notification information alongside your applications and other pinned items.

Cortana
Microsoft's digital personal assistant, Cortana can answer your questions with information gleaned from both your device and the internet at large. You can type or even talk with her if your system has a microphone. Using her Notebook, Cortana keeps track of your needs and wants, and she learns over time to improve her information-gathering skills.

Microsoft Edge
After nearly 20 years, Microsoft has finally replaced its Internet Explorer web browser. With Microsoft Edge, users can write directly on web pages and share notes with friends and colleagues. It also improves the online reading experience by adding a distraction-free mode and read-it-later functionality. Edge also has built-in Cortana integration; you can have her help you find a restaurant, make a reservation, and pull up directions without leaving your browser.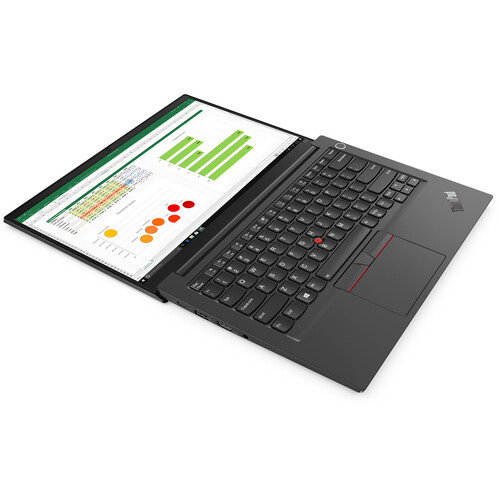 Windows Store
For Windows 10, Microsoft has unified the Windows Store. Now, apps for PCs, tablets, and phones will all be accessible from one place. And with support for Universal Apps, one version of an app can work across all your compatible devices automatically.

Windows Continuum
Windows 10 was designed for a variety of screen sizes and input styles, and with its Continuum feature, it automatically adapts to fit your needs. A Windows 10 tablet on its own requires a touch-centric approach but attaching a mouse and keyboard will shift everything to a more traditional interface. You can even attach an external monitor to your Windows 10 phone for a near-desktop experience. But it's not just the operating system; Windows Universal Apps take advantage of Continuum as well.

Xbox on Windows 10
Gaming is a big focus of Windows 10. Xbox integration allows for PC players to match up against Xbox One players on supported games, and if you have an Xbox One, you can even stream compatible titles to your PC. Native support for recording with the new Game DVR feature makes it easy to capture and share your gameplay. The new DirectX12 takes better advantage of multi-core processors, giving games a performance boost, even on older hardware. Windows 10 also features native support for virtual reality headsets, such as the Oculus Rift.

Additional Windows 10 Pro Features
The Pro version of Windows 10 includes all the features of Windows 10 Home plus many designed specifically for business users, including Hyper-V virtualization, BitLocker disk encryption, and remote desktop access. Devices will also be able to join domains and the Azure Active Directory, and they can even access a specialized version of the Windows Store featuring custom, company-specific applications.
Document version V.01 
Last update date: October 1st, 2021 
OVERVIEW:
We make every effort to ensure your purchase is delivered on time and in good working condition.
In the event a system or component you purchased from Technologies Flame Company (NewtechBusiness)  is damaged in shipping, fails before the warranty period has ended, or you just need to return it, please refer to the steps below to return your purchase.
For Products Under Warranty:
Please have a description of your issue on hand when you contact support.
Technologies Flame support team will assist you in troubleshooting the problem remotely
If remote troubleshooting is unable to correct or identify the problem you will be instructed to fill out the RMA Request Form. An RMA number will be issued to return the defective system or component.
For Items Damaged During Shipping:
Once a purchase has been delivered, it is the customer's responsibility to inspect systems and/or components for damage incurred during shipping. If your purchase is damaged during shipping you must contact Technologies Flame within five (5) business days of receipt of product(s) to receive a refund or replacement for your purchase. Damaged items returned after the five-day period, without notifying Technologies Flame , will not be covered. Any requests to return a damaged item made after the five (5) day return period will be handled on a case-by-case basis.
For Outright Returns:
Returns NOT related to product warranties or damage during shipping are handled on a case-by-case basis. If you would like to return a product or system purchased through Technologies Flame you must notify Technologies flame team within 15 business days.
Returned systems and components are subject to a 20% restocking fee, and must be accompanied by an RMA number provided by an authorized representative Technologies Flame
To get an RMA number, you will have to fill out the RMA Request Form
All Items returned to IT Creations must have shipping labels addressed as follows:
Technologies Flame Company.
RMA: (Reference # Here)
Muheet Street, Al Nadheem, Riyadh City, Saudi Arabia
The RMA number must be included in the shipping return label when shipping back to Technologies Flame. Items must be shipped before the applicable warranty expires to receive a refund.
Purchases that have not shipped may be cancelled within one business day and are subject to a 20% restocking and fulfillment fee.
Shipping expenses are not included unless part of your service agreement with Technologies Flame.
All software purchases are final.
All new retail product purchases are final
Contacting us:
If you have any questions about this payment policy, the practices of this website, or your dealings with this website, please contact us using the following details: 
Full name:                        Technologies Flame Limited
Email address:                business@newtechstore.com 
Postal address:               Technologies Flame Limited  Muheet Street, Al Nadheem, Riyadh City, Saudi Arabia, Riyadh, Riyadh, Al Nadheem, SA 
Telephone number:         920011980 
Lenovo 14" ThinkPad E14 Gen 2 Laptop