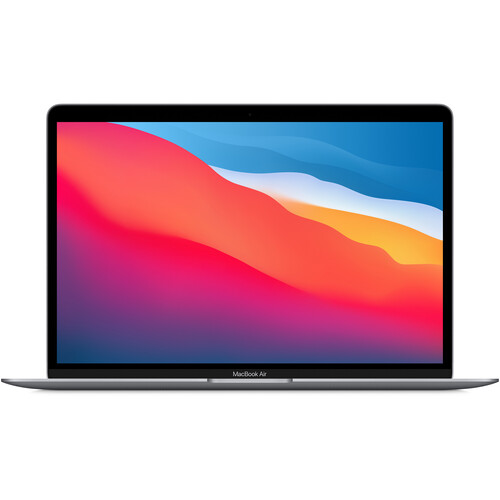 Apple 13.3" MacBook Air M1 Chip with Retina Display (Late 2020, Space Gray)
The Macintosh 13" MacBook Air features Mac's first chip planned explicitly for Macintosh. The Apple M1 coordinates the central processor, GPU, Neural Motor, I/O, and more into a solitary framework on a chip (SoC). Tackle your tasks with the quick 8-Center computer processor and take on illustrations serious applications and games with the 7-center GPU. Quicken AI undertakings with the 16-center Neural Motor. Complete with a quiet, fanless plan and as long as 18 hours of battery life, the MacBook Air is as yet compact, however now much more remarkable. It additionally has 8GB of brought together Smash and a 256GB SSD.
Apple M1 Chip: 
Packed with 16 billion transistors, the Apple M1 integrates the CPU, GPU, Neural Engine, I/O, and more into a single system on a chip (SoC). Built with 5nm process technology, the Apple M1 delivers the performance you need without sacrificing power efficiency. The Apple M1 features four high-performance cores, each designed to run a single task, which allows for multithreaded workloads. There are also four efficiency cores to handle lighter workloads, using only a tenth of the power while still delivering fast performance. This means the Apple M1 performs up to 3.5 times faster than the previous generation while still delivering battery life up to 15 hours of wireless web browsing and up to 18 hours of video playback.

13.3" Retina IPS Display: 
With four times as many pixels as an HD display, the 13.3" Retina IPS Display provides up to 48 percent more color than the previous generation. The Retina Display has a 2560 x 1600 screen resolution and a 16:10 aspect ratio for 227 pixels per inch (ppi). The display glass goes right to the edge of the screen, making the bezels 50 percent thinner than before. Moreover, True Tone technology automatically adjusts the white balance to match the color temperature of the surrounding light.

True Tone Technology: 
With True Tone technology, the display delivers a more natural viewing experience for design and editing workflows, as well as everyday tasks like browsing the web and writing email.

Touch ID: 
The advanced security and convenience of Touch ID is built into the MacBook Air. Simply place your finger on the integrated Touch ID sensor and your MacBook Air unlocks. Use your fingerprint to immediately access locked documents, notes, and system settings. You can also use Apple Pay securely during checkout while online shopping. No need to enter shipping or billing info, and your card details are never shared.

Magic Keyboard: 
The Magic Keyboard on this MacBook Air features a scissor mechanism that delivers 1mm of key travel. There's also a physical Esc key and an inverted "T" arrangement for the arrow keys. Combined with the Touch ID, the Magic Keyboard provides a comfortable, accurate typing experience.

Thunderbolt 3 with USB4 Support: 
Thunderbolt 3 is a hardware interface that utilizes the reversible USB Type-C connector. Doubling the speed of its predecessor, Thunderbolt 3 features a maximum throughput of 40 Gb/s when used with compatible devices. The connector also supports USB4, allowing you to connect to more peripherals, including the Apple Pro Display XDR in full 6K resolution.
Document version V.01 
Last update date: October 1st, 2021 
OVERVIEW:
We make every effort to ensure your purchase is delivered on time and in good working condition.
In the event a system or component you purchased from Technologies Flame Company (NewtechBusiness)  is damaged in shipping, fails before the warranty period has ended, or you just need to return it, please refer to the steps below to return your purchase.
For Products Under Warranty:
Please have a description of your issue on hand when you contact support.
Technologies Flame support team will assist you in troubleshooting the problem remotely
If remote troubleshooting is unable to correct or identify the problem you will be instructed to fill out the RMA Request Form. An RMA number will be issued to return the defective system or component.
For Items Damaged During Shipping:
Once a purchase has been delivered, it is the customer's responsibility to inspect systems and/or components for damage incurred during shipping. If your purchase is damaged during shipping you must contact Technologies Flame within five (5) business days of receipt of product(s) to receive a refund or replacement for your purchase. Damaged items returned after the five-day period, without notifying Technologies Flame , will not be covered. Any requests to return a damaged item made after the five (5) day return period will be handled on a case-by-case basis.
For Outright Returns:
Returns NOT related to product warranties or damage during shipping are handled on a case-by-case basis. If you would like to return a product or system purchased through Technologies Flame you must notify Technologies flame team within 15 business days.
Returned systems and components are subject to a 20% restocking fee, and must be accompanied by an RMA number provided by an authorized representative Technologies Flame
To get an RMA number, you will have to fill out the RMA Request Form
All Items returned to IT Creations must have shipping labels addressed as follows:
Technologies Flame Company.
RMA: (Reference # Here)
Muheet Street, Al Nadheem, Riyadh City, Saudi Arabia
The RMA number must be included in the shipping return label when shipping back to Technologies Flame. Items must be shipped before the applicable warranty expires to receive a refund.
Purchases that have not shipped may be cancelled within one business day and are subject to a 20% restocking and fulfillment fee.
Shipping expenses are not included unless part of your service agreement with Technologies Flame.
All software purchases are final.
All new retail product purchases are final
Contacting us:
If you have any questions about this payment policy, the practices of this website, or your dealings with this website, please contact us using the following details: 
Full name:                        Technologies Flame Limited
Email address:                business@newtechstore.com 
Postal address:               Technologies Flame Limited  Muheet Street, Al Nadheem, Riyadh City, Saudi Arabia, Riyadh, Riyadh, Al Nadheem, SA 
Telephone number:         920011980 
Apple 13.3" MacBook Air M1 Chip with Retina Display8GB RAM 256GB SSD Late 2020